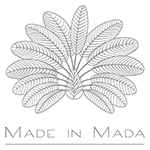 Made in Mada are specialized wholesalers and sell only to selected retailers.
If you are a retailer and want to have a look at our catalogue and price list, please go to Menu/ Become a stockist,
fill the form and we will review your request.
If we need more details, we will send you an email.
ADDRESS
114 Mons Avenue
Maroubra
NSW 2035
TELEPHONE (+61) 0468 914 429
EMAIL info@madeinmada.net