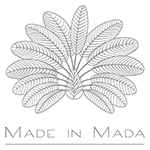 As we only sell in bulk to retailers and trade partners, we are unable to provide a shipping cost directly with your order.
We calculate the shipping fees once your order is ready for shipment, based on volume and weight.
Your shipping costs are then added to the balance of your invoice.
Please contact us if you have any queries
As part of our mission towards creating a sustainable and ethical brand, we operate based on a no stock policy, meaning each and every item we sell is woven to order for our wonderful customers.
In the same way, we are also committed to minimising our carbon footprint.
For direct customers, as we receive orders from all over the world, we have found that the best way to honour this commitment is to ship directly from Madagascar.
For these reasons, shipping can take 2-3 weeks.
We appreciate your patience and support.