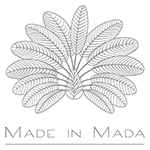 ETHICAL – Raffia – SUSTAINABLE
As part of our ethical and sustainable journey, we have re-planted 1000 raffia trees in the centre south of Madagascar in the Tsaranoro valley. Actions are organised with local people to plant the trees. We are hoping this initiative will allow the local people to have additional income and to reach our target to be independent in our production and create our bags thanks to this harvest.
____________
A raffia nursery is a facility or designated area where raffia palms (Raphia spp.) are cultivated and raised during their early stages of growth before being transplanted to their final planting locations. The establishment of a raffia nursery is a common practice in the cultivation of raffia palms to ensure optimal growth conditions and improve the overall success of the planting process.
____________
____________